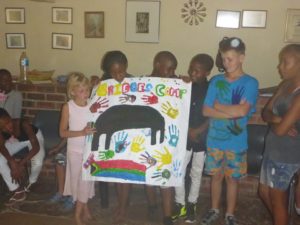 "Before I became a facilitator at Bridges Camp, I just completed all duties I had. Basically, I just wanted to get things done. Now I am trying to do everything as good as I can, I want to excel in things and always put in as much effort as possible. I have attended 4 camps as a facilitator so far and I am now a supervisor in training. Together with 7 other teenagers, we have developed the manual full of interesting activities and great games for the next camp. Now, I can stand in front of a group and speak confidently. I wish to get even more responsibility at the camp!"
Reezan Damon has participated in our camp in March 2014 and was selected to become a facilitator. She is a talented, determined, hard-working and wonderful young lady and we are proud to see how much progress she has made throughout the years. She told us that she observed a lot of positive changes in her life after she joined the facilitator programme at "Bridges Camp".
Our official evaluation of the programme reflects her perception and shows a huge impact: The teenagers changed their behavior and their attitudes in a positive way, not only at our camps but also at school, at home and in their everyday life in general.
"Bridges Camp" is an initiative that gives teenagers from different backgrounds a platform to overcome their prejudices and lower racism. We have started this project in 2014 in cooperation with the University of Pretoria. In 2015, we registered our organization "Bridging Gaps e.V." in Germany with the vision to overcome societal inequalities in Germany as well as in South Africa. Through this formal structure, we also hope to support the teenagers in our programmes even more in their process of personal growth because they keep on surprising us in a very positive way.
The special element of "Bridges Camp" is our facilitator programme in which previous participants are selected to come back at the following camps. After an intensive preparation training, they have the opportunity to help at the camp, take responsibility for younger teenagers and teach them what they have learned.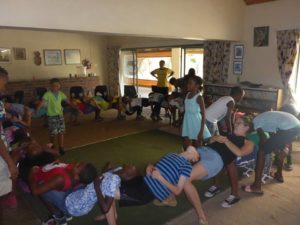 On the picture: Bonnie, our facilitator in the blue dress is instructing the teenagers as part of the game "A Circle Without Chairs"
Currently, we have 30 facilitators and supervisors in training and we are pleased to see how they run the camps and facilitate all games and activities. This requires good leadership and social skills and it is great to see their improvements in these fields. A new supervisor that has attended our last training was impressed when she watched Lesego Selemela when he was teaching young facilitators how to run the small group activities at the camp because he seems so small but he actually speaks to the teenagers like one of the adult supervisors. Working with younger teenagers has taught him how to be empathetic, calm and patient and it was great to see how he was able to guide one of the boys who was shy to practice the activity, telling him that it is okay to be nervous and simply giving him more time until he succeeded.
It is always funny to see how the facilitators complain about the teenagers when they come to the camp for the first time. However, we believe that good leaders should not start blaming individuals that they are working with but actually ask themselves how they can change their behavior to encourage everyone to be the "best person they can be" (Tamelin Kiet). In our evaluation, the facilitators also state that they have improved their ability to work with others and also younger teenagers, their teamwork in general as well as their problem solving skills.
But we try to achieve even more with this facilitator programme: We aim to assist the participants in their personal development, by increasing their confidence, self-esteem, self-efficacy, self-respect. It is great to see that our facilitators seem to be much more open with each other, are ready to approach teenagers from different backgrounds and are more eager to speak up and contribute in discussions that the new participants. "It often happens to me that I notice how another person would like to chat to me or interact with me. Previously, I didn't even notice that but at "Bridges Camp" I have learned how great it can be to be confident and approach others – you can meet many great people" (Rose Makgotso Mashishi).
Our facilitators also feel proud to be part of the "Bridges Camp" family and identify with our vision: They can't wait to get their facilitator shirts that they decorate beautifully with the "Bridges Camp" logo and our slogans. We hope that being a facilitator also gives them an important place outside their school work and something to hold on to when they struggle with other part of their life. Many NGOs wonder, how they can convince their beneficiaries to take ownership of the programmes they are involved in and we have observed that this is often not achieved and leads to the failure or an insufficient sustainability of many interventions. We believe that nobody will ever take ownership of a programme when they feel they are merely beneficiaries. We have noticed that the facilitators are only motivated when we are willing to pass on responsibility and give them full credit for their work. This will actually challenge them up to a point where they want to show us that they can do even better than we could. But this actually means that we, as the organizing team, admit that we are replaceable and this can be very painful at times, especially if one feels very attached to  project – maybe this is a reason that many people who run projects actually don't wish that others will take full ownership. "It is time, oh it is time you lay to rest. You taught us, you taught us, you taught us – and now we teach you!" (Part of a peom by Rose Makgotso Mashishi for one of the supervisors).
One of our main goals is to encourage the teenagers to become good role models and take responsibility for the project and younger teenagers. Looking at other youth developmental projects, we have realized that many projects try to guide young people by exposing them to role models, older people that are successful and supposedly inspiring. However, when we asked our facilitators if they prefer to have a role model of to be a role model themselves, they answered very quickly that their goal is to be a role model to others and this is in line with our official evaluation: The teenagers feel encouraged to be good role models and work hard to contribute to the success of the camp and actually wish to have even more responsibility.
On the last day of the camps, we asked the teenagers to write a short essay about their journey from the moment they arrived until they leave. They often write how they looked up to the facilitators in their group and it gives us a lot of joy to be able to tell the facilitators how much they have passed on and taught the new participants. Being a good role model seems to be a bigger motivation for young people that are hungry to be meaningful and important in their lives. We believe that "Bridges Camp" is an ideal opportunity for them to live up to and reflect on their responsibilities as a role model.
The objectives of this programme go beyond the time at the camp: We hope that the teenagers also show a positive behavior and be open towards different people and experiences in their own communities. Our evaluation has shown that this is not only a dream but that they actually make an effort to achieve higher academic performance, develop a passion that they can follow in their free time and are more motivated and optimistic to work towards their most desired future. The question what motivates young people is one of the main concerns of many youth development programmes and the usual approach is to tell young people that they have a great future in front of them if they only work hard enough. However, we believe that such an approach is problematic in two ways:
Firstly, young people want to be great and make a difference today and now. In their eyes, it doesn't make sense to wait many years to be acknowledged and eventually be taken serious. That's why we have decided to give them an opportunity to take responsibility as part of our project and provide them with different opportunities where they can practice a behavior that will assist them in their personal development to achieve their goals in life. One example is that we try to reflect together with the teenagers what it means to have rights and responsibility: When they become a facilitator at the camp, they have more rights, are allowed to drink coffee, stay up longer, participate in night activities and a night swim and so forth. It is easy to simply enjoy such privileges and brag in front of the teenagers. However, we try to make them aware that this does not mean that they are suddenly better people but that they should work hard and live up to their responsibilities that are connected to more rights.
Secondly, we do not believe that our world is so simply that every person who makes an effort will automatically have a great future. We acknowledge that our individual lives are highly influenced by societal power structures, the unequal distribution of resources, various forms of discrimination and prejudices. Which message will we send to young people if we completely ignore that? And more importantly, will their personal experiences reflect what we promised them? How will they cope if they face challenges that they haven't hear about before? We believe that young people need to understand the dynamics and inequalities in our society to develop strategies to cope with them on a personal level and challenge them on a structural level. In our opinion, it is crucial that they develop critical thinking skills, an increased knowledge on societal challenges, especially discrimination and an understanding of global and historical influences and the ability to discuss such important topics – and according to our evaluation, we seem to achieve exactly that. We have repeatedly made the experience that the teenagers enjoy our sessions that cover such topics. They always emphasize that they hardly learn about prejudices and different forms of discrimination outside our project but actually believe that this is very important because they can feel it in their everyday lives. Many teenagers also say that they are grateful to understand the complex dynamics of their lives and gain more self-confidence when they realize that it is not their own or their parents fault that they might live in poverty, with little resources or opportunities to build their future. One boy once told us that it is important to learn about such theories because he now understands that it is not his parents' fault that he grows up in a shack in the informal settlement. This shocking example actually shows that he must have believed that before and nobody ever spoke to him about it in a critical way.
We try to achieve these objectives in our intensive preparation trainings, by assigning certain responsibilities and duties to the facilitators. At the camp, the facilitators are responsible to serve the food, wash the dishes, help with the cleaning and assist the supervisors in preparing all activities. During the training, they also prepare all games and activities that they facilitate for the new participants at the camp with our guidance. We assign more challenging games and activities to the facilitators that have already attended several camps and gained more experience and skills. On their first camp as facilitators, they teach the participants various circle games, play with them ad are responsible to plan an evening activity as well as the treasure hunt. "I practice the games in front of the mirror at home – the better you are prepared, the prouder you will be of yourself" (Tamelin Kiet).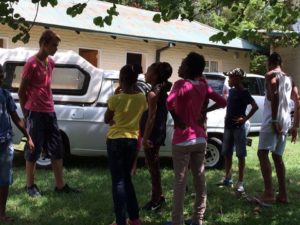 On the picture: Some of the facilitators are preparing the aerobic sessions for the Big Camp at the preparation training.
Every morning, the teenagers start their day with some exercises and a lot of energy
On their second camp, they are responsible for more challenging games and facilitate activities in small groups with approximately 6 teenagers, focusing on respect, judgment and personal development. It is especially nice to see that they become more confident the more they practice and start to move beyond the manual. Brett, one of our younger facilitators, once started to share his story and what it takes of him to be facilitator to encourage all participants to have goals and work hard. If they are able to fulfill these expectations, they can become supervisors in training and can facilitate more challenging activities or run sports or arts session with all teenagers without our assistance and teach the group on topics like discrimination and racism. As supervisors, we will sit in the audience and are often amazed how much we can still learn from the teenagers – have you ever asked yourself the question, what "race" actually means? Well, several of the teenagers will actually be able to explain it to you! Currently, we have 10 supervisors in training who are simply amazing. We wanted to give them even more opportunities to grow and asked 8 of them to join our core planning team for our reunion camp in March 2016. Together, they developed a manual full with new games and activities for the camp and instructed all other facilitators at the training.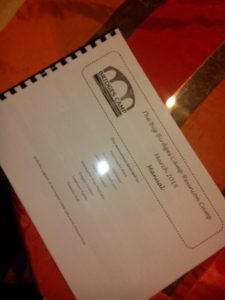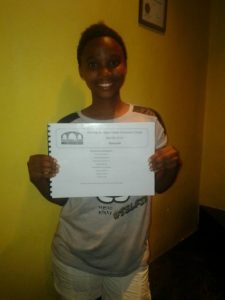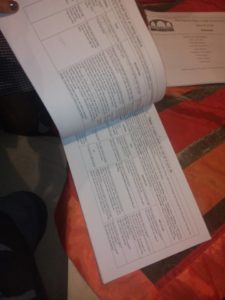 The manual that was created by the supervisors in training – proudly presented by Elverouschka Block.
At the camp itself, we place a huge importance on guiding and mentoring the facilitators and supervisors in training and reflect on their personal journey in two daily meetings. It has become a running joke amoungst the facilitators that they are asked the very same question every day. "How was your day?" (Jamaroquai Jors), but we believe it is important to practice introspection to become a great leader one day. We also offer workshops and activities to improve their personal skills. Examples of topics for these workshops are public speaking, debating, how to approach other teenagers, gaining more confidence and self-respect, solving conflicts and handling challenging participants. In discussion rounds, the teenagers speak about various theories that aim to explain societal challenges, e.g. power relations in society, negative consequences of judgment and discrimination, race as a social construct and how socialization can shape us as individuals. To challenge them even more, we every facilitator is required to complete certain projects at the camp that serve as a platform to practice these skills. So far, they produced a dancing video, a talk-show video, marketing material for the camp, musical instruments and a photo campaign.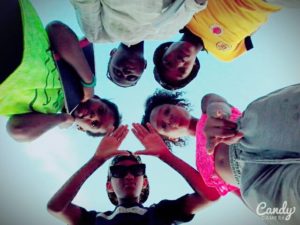 On the picture left:
Tamelin Kiet, Jamaroquai Jors, Lesego Selemela and Reezan Damon – four of our supervisors in training with Morongoa, on of our supervisors.
The results of this research clearly show that the facilitator programme of "Bridges Camp" had a huge effect on all the participants in this study as 94% state that they perceived a positive change in themselves trough participating in the programme and 100% would recommend it to other teenagers. Such a great feedback encourages us to continue our hard work and the facilitator programme at "Bridges Camp".
The Bridges Camp Family – Our Facilitator Program