Our first steps
Bridging Gaps was started by a circle of friends that share their interest in social justice, an incredible passion for their work as well as their wish to become active and have a positive impact.
As an organisation, Bridging Gaps has its roots in the South Africa, where Juliane Hoss, the founder of the organisation, spent several years as part of her studies. Through the contact with other young people, she learned more about different forms of discrimination as well as racism and just like her friends, Juliane became increasingly frustrated with the status quo. It was a spontaneous decision to become active instead of merely talking about such injustices and together, the friends started the initiative Bridges Camp.
"Most young people in South Africa would agree that racism is still a huge problem and believe that only the younger generations have a chance to change this. But we have asked ourselves the question, how young people are supposed to do that when we raise them with the very same prejudices and they hardly have any contact to other groups on top of that. We wanted to create a platform where teenagers have a chance to engage." – Juliane Hoss
Our first project: Bridges Camp

The Bridges Camps create a platform for young people from different backgrounds to come together and lower their prejudices through interpersonal contact. To finance their first camp, the organising team was literally standing at traffic lights and petrol stations and washing windscreens to raise donations. But after the camp turned out to be a huge success, they were even more motivated.
Several founding members of the organisation have spent some time as volunteers in South Africa. All of them were shocked to see that even 20 years after the end of Apartheid, people were still living largely separated and that prejudices and different forms of racism were still very present in the society.
"In the beginning, I was glad that I made different experiences during my childhood and I used to say that racism is not a problem anymore in Germany. But obviously this was wrong and I could only say that as I was not negatively affected by racism." Juliane Hoss
Founding the organisation
Being confronted with these topics in South Africa, the friends also started to become more aware of the power structures in their own societies. Through many discussions and interactions with various people from different walks of life, they realised that different forms of discrimination and in particular racism were also rife in their own society. It was a challenging process for them to acknowledge that racism is a global phenomenon and to accept that they had ignored it because they were not affected personally. However, this understanding instilled a wish within them to become active in South Africa as well as in Germany and to create more consciousness for these forms of injustices.
Together, the friends founded the non-profit organisation in May 2015 to make a positive contribution to overcome injustices that are caused by societal structures. Increasingly more young people joined the organisation as they could identify themselves with this vision and founded regional groups in different cities in Germany.
Our work
South Africa
The organisation still runs projects in both countries: The team in South Africa has expanded the project Bridges Camp and reached more than 250 teenagers in 10 camps. One special aspect of the camp is that a few teenagers are selected at each camp to become facilitators at the next camp. After an intensive preparation training, they have a chance to teach the new participants and take responsibility for the games as well as the overall organisation of the camp. This approach encourages young people to think critically about societal structures and take responsibility to have a positive impact as part of our project as well as in their direct environment. The project ultimately aims at supporting future leaders to create social change.
Germany
In Germany, the members started with a documentation about everyday racism called "Listen to us [Schenkt uns Gehör]", which has reached an audience of about 250 people. Together, they offer workshop against racism, organise critical whiteness trainings and different events that aim to concentise the broader society around these issues. As a next step, the teams in Germany are planning to expand their work with teenagers as well.
Future Goals
A huge goal for the future of the organisation is to support some of the teenagers to further their education after high school and attend university. Together with the partnering organisation "Education 4 All", they are establishing a scholarship project to fund some of the facilitators. Apart from the camps, the team in South Africa is also offering workshops, such as computer or coding lessons to support the teenagers in their education and guide them on their path of personal development.
"I want to see the camps growing and moving all over South Africa. My dream would come true, if we could reach even more teenagers and integrate more social groups. Being the leader of the team is amazing but also a huge challenges. Bridges Camp means a lot to me." Morongoa Masemola is the leader of the organisation in South Africa
The organisation has received several awards: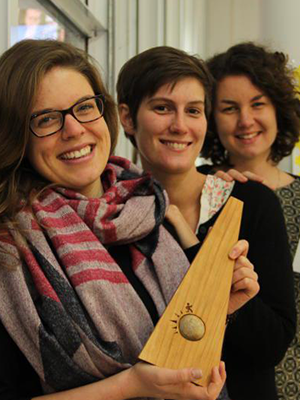 The project Bridges Camp was praised as a "best-practice project for international solidarity" at the annual meeting of the Baden-Württemberg foundation in November 2015. The Baden-Württemberg foundation aims at creating a province that is vital and worthwhile to live in and want to contribute to a responsible interaction with all individuals.
In September 2016, Juliane Hoss has received the honor award of the foundation "Filippas Angels" for her role in the organisation Bridging Gaps. The foundation awards young European citizens that show a sustainable and extraordinary social engagement.
In November 2016, Bridging Gaps won the changemaker prize of the "Karl Kübel foundation" in the category "intercultural togetherness". The prize is awarded to young people that are active in the field of developmental politics and aim at bringing change in their own society as well as in this globalised world.
Bridging Gaps is one of five finalists of the engagement prize of the German national scholar foundation in 2017. This prize is awarded to projects that address a severe societal need and are implemented in a sustainable way since 2014.